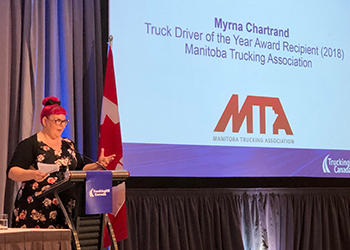 The Road Ahead
March 11, 2020 2:17 pm
Trucking HR Canada releases new report shedding light on industry labour shortage
At a national press conference March 11 in Toronto, Trucking HR Canada released The Road Ahead: Addressing Canada's Trucking and Logistics Industry Labour Shortage.
"We are here to demonstrate that we are on the road to addressing these shortages with some approaches and solutions, and it is clear we need to do more…as an industry and our continued collaboration with government," said Trucking HR Canada CEO Angela Splinter.
The press conference was held ahead of Trucking HR's annual Women With Drive Leadership Summit March 12 and included a panel consisting of Kristelle Audet, principal economist with The Conference Board of Canada; Myrna Chartrand, commercial driver and Manitoba Trucking Association's 2018 Driver of the Year; Linda Young, Trucking HR Chair and VP HR and People Development, Bison Transport and David Carruth, president and CEO of One for Freight, a Carrier out of Milton, ON.
The 36-page Road Ahead report is touted as the first of its kind to measure and assess the full trucking and logistics industry, providing the most informed analysis to date regarding critical labour gaps and the adverse impacts on the Canadian economy.
One of those labour gaps is women in industry, with Audet pointing out women make up only 3.5 per cent of the trucking and logistics industry workforce, while making up more than 50 per cent of Canada's overall workforce.
"Where do I see hope in our industry? In our companies' investment in activities like the Women With Drive initiative," said Carruth. "What the report tells me directly is industry needs to do more to drive young people, specifically young women to (join us)."
Enter Myrna Chartrand.
The driver of a pink breast cancer awareness truck for Portage Transport, the pink-haired Chartrand spoke to entering industry in order to break the stereotype of "what a driver looks like".
"I want to promote myself, I want to promote women in trucking," she said. "There's just so much more to it I don't think people realize.
The skies the limit with trucking, don't limit your view."
The Road Ahead report states the truck transportation industry experienced an average job vacancy rate of 6.8 per cent in 2019 (Statistics Canada's Job Vacancy and Wage Survey), more than double the national average of 3.3 per cent.
"The labour shortage is real and has to be … acted upon," said Carruth. As a smaller carrier, he said delays and inefficiencies in the business of transportation are magnified resulting in an increase in employee overtime directly countering a work-life balance.
"All of this impacts the bottom line and our ability to serve our clients," he said.
Also starting to make an impact on industry is the spread of COVID-19 known as coronavirus. As of March 11, the Alberta Government reported 14 cases in the province, and 93 across Canada marking the risk "still low" for Albertans.
"Today as Canada and the world responds to COVID-19, it is our truck drivers who will be the chaperones for how many of the medical items, supplies and ultimately vaccines get to Canadians in large cities and small communities across the country," Splinter said.
Both Young and Carruth said their carriers are in the midst of internally making plans for how the outbreak could continue to affect industry.
"Safety is paramount," Young said, adding while Bison already had an Advance Absence Management process in place, the carrier has enacted a "more rigorous" process and are taking things one day at a time.
In closing, the group discussed their top takeaways from The Road Ahead.
"One of the findings was the increased stress among employees as we look at managing turnover," said Splinter. "I think that's something we need to stay on top of."
"(We are) hoping to leverage data from the report and also have our voice heard to create new partnerships," said Young. "…it takes a village, and this is about Canadians joining in and understanding how the driver shortage affects them."
The Road Ahead by the numbers
-In recent years, the trucking and logistics sector employed 3.6 per cent of Canada's workforce translating into more than 650,000 workers
-While truck drivers represent 46 per cent of industry, they account for 63 per cent of its job vacancies
-Without meaningful action, vacancies are expected to soar to 25,000 by 2023, an increase of more than 25 per cent compared to 2019